---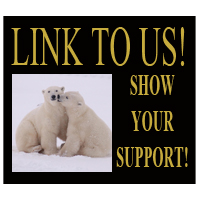 ---
Canadian Seafood Boycott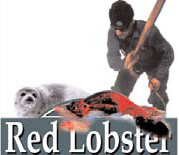 This large chain of restaurants may be the single largest importer of Canadian seafood in the world.
The Red Lobster restaurant chain is the world's largest purchaser of Canadian seafood and, in particular, seafood sold by Canadian sealers. For this reason, organizations are doing all they can to convince Red Lobster to help end the Canadian commercial seal hunt by boycotting Canadian seafood. So far, Red Lobster has refused to do so. Please join us in asking Red Lobster President Kim A. Lopdrup not to buy or serve Canadian seafood until the Canada's commercial seal hunt is ended.
Help educate Red Lobster patrons and show them how they can help influence Red Lobster to do the right thing and help end the slaughter of seals. Download this Red Lobster leaflet which can be handed to Red Lobster customers as they are entering the restaurant and/or placed on their windshields! Share it with friends and family. Make copies and distribute widely! [Note: Print 2-sided and cut into fourths]
Get the Code to Post this Petition on your Website! GO!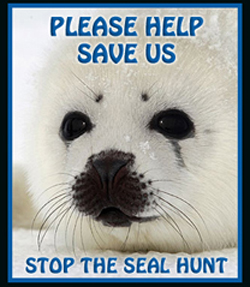 Urge your local grocer to join the Canadian Seafood Boycott GO!
---
Why We Boycott Canadian Seafood
The Canadian sealers are fishermen. Sealing is an off-season activity for them, a way to earn a few bucks before the start of the fishing season. The Canadian seafood boycott allows us to pressure sealers to stop killing seals - or risk losing their main source of income.
Many seafood companies lobby for the seal slaughter. One of them (the Barry Group) owns the second largest seal skin processing company (Atlantic Marine Products) and therefore has a direct reason to support the seal hunt.
---
Canada's Other Seal Hunt - Nova Scotia Grey Seals
This is Nova Scotia's shame. This is Canada's other seal hunt. The slaughter of baby greys." -Bridget Curran

Atlantic Canadian
Anti Sealing Coalition
---
WFL Endangered Stream Live
Global Connections

---
TALK RADIO FOR ANIMAL PROTECTION
Every year, the Genesis Awards pays tribute to the major news and entertainment media for producing outstanding works such as these, which raise public understanding of animal issues. As much as film, television, print and the arts reflect societal attitudes, they also help shape and change those attitudes. The mass media have the power to spotlight animal issues to vast audiences—literally at the speed of light.

This year's gala and awards ceremony were held in tribute to The Humane Society of the United States' Protect Seals Campaign.

Click on the Image below to watch Nigel Barker's Video © HSUS

HSUS President & CEO Wayne Pacelle and Katia Louise

Wyler Award Recipients

Grey's Anatomy Wins!

Mark Wilding, Executive Producer and Writer - Grey's Anatomy ...with Katia Louise

Nigel Barker, Katia Louise and Paige Donner

Congratulations to the Winners!

SID CAESAR COMEDY AWARD
WIN: THE SIMPSONS
ACCEPTORS: writer Jeff Westbrook/Al Jean-
PRESENTER: Hal Sparks

CHILDREN'S PROGRAMMING
WIN: HANDY MANNY
ACCEPTOR: Executive Producer Rick Gitelson
PRESENTERS: Jarrod Cooper & Dominic Scott Kay


TV NEWSMAGAZINE - NATIONAL
WIN: 20/20
ACCEPTOR: Producer Kimberly Launier
PRESENTERS: Jorja Fox & Reid Scott


TV NEWSMAGAZINE-CABLE
WIN: REAL SPORTS WITH BRYANT GUMBEL
NO ACCEPTOR
PRESENTER: Jillian Reynolds


THE WYLER AWARD
WINNERS: ELLEN DEGENERES & PORTIA DE ROSSI
ACCEPTORS: ELLEN/PORTIA
PRESENTER: Wayne Pacelle


NATIONAL NEWS FEATURE
WIN: WORLD NEWS WITH CHARLES GIBSON
ACCEPTOR: Producer Lisa Fletcher
PRESENTER: Ben Stein


LOCAL NEWS SERIES
WIN: KLAS-TV 8
ACCEPTOR: George Knapp
PRESENTER: Emily Deschanel


LOCAL NEWS FEATURE
WIN: KHOU-TV
ACCEPTOR: Writer/Reporter Brad Woodard
PRESENTER: Persia White


TV DOCUMENTARY
WIN: BLINDERS
ACCEPTOR: Producer/Director Donny Moss
PRESENTER: Susanna Thompson


UNSCRIPTED TELEVISION SERIES
WIN: 30 DAYS
ACCEPTORS: Producer Mary Lisio and Co-Executive Producer Mark Kadin
PRESENTERS: Matt Grant & Claudia Jordan

BRIGITTE BARDOT INTERNATIONAL
WIN: THE MONG LAH CONNECTION
ACCEPTOR: Karl Amman
PRESENTER: Wendie Malick

TALK SHOW
WIN: THE OPRAH WINFREY SHOW
ACCEPTORS: Producer Caroline Ziv and Supervising Producer Lisa Morin
PRESENTERS: Michael Vartan & Carrie Ann Inaba


DRAMATIC SERIES
WIN: GREY'S ANATOMY
ACCEPTOR: Writer and Executive Producer Mark Wilding
PRESENTER: Marg Helgenberger


FEATURE FILM
WIN: BOLT
ACCEPTOR: Director Byron Howard
PRESENTERS: Maggie Q & Ginnifer Goodwin

---

HSUS, Rebecca Aldworth

---

---

---
23rd Genesis Awards
The HSUS annual Genesis Awards recognizes artists, writers, and others in entertainment and the media who contributed their time and talents over the past year to raise awareness of the plight and suffering of animals. Nominees from print, TV news, feature films, and narrative television media received recognition and awards presented by Hollywood stars before a celebratory crowd of appreciative animal lovers and HSUS supporters.
HSUS Celebrates Humane Stars
---
About The HSUS
The Humane Society of the United States is the nation's laergest animal protection organization and is backed by 11 million Americans, or one of every 28.
The HSUS has been fighting for the protection of all animals through advocay, education, and hands-on programs for more than a half-century.
Celebrating animals and confronting animal cruelty - on the web at www.humansociety.org.
---
"A Sealed Fate?"
A Nigel Barker Film
Nigel Barker travels to the stunning ice floes off the coast of Canada's eastern shore to film the birth and the ensuing hunt of the harp seal pups.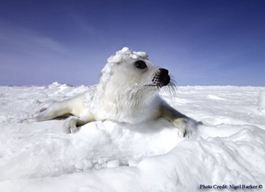 A SEALED FATE?" Nigel Barker's new film
On Exhibit May 14th @ Zune LA, CA GO!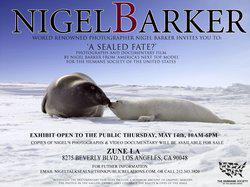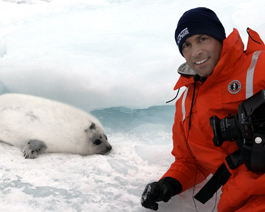 ---
Genesis Awards
CONGRATS TO EVERYONE!
The Talk Show winner is... Oprah Winfrey! Producer Caroline Ziv and Supervising Producer Lisa Morin accepted the award on behalf of Oprah.
EllenDeGeneres and Portia de Rossi are the 2009 Genesis Wyler Award recipients.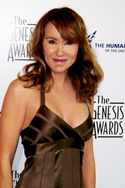 Celebrity guests and supporters including James Cromwell, Nigel Barker, Joe Mantegna and many more walked the red carpet stopping by for brief interviews with various members of the press. Katia Louise spoke on behalf America's horses. Learn more>>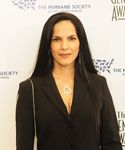 Mariana Tosca spoke on behalf of elephants in zoos and shared a passionate accounting of Billy's story. See Concrete Evidence to learn more about Billy at the LA Zoo.
---
---
"Seal Warriors"
Featuring Captain Paul Watson & Nigel Barker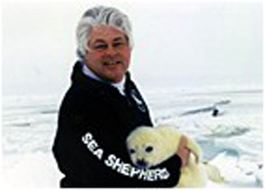 Media Alert: GO!

---
Captain Paul Watson, Founder, Executive Director of Sea Shepherd Conservation Society is a Featured Guest of for this special segment, Seal Warriors. Watson will address the importance of preserving the harp seals, the fragile condition of our oceans and the current state of affairs regarding the Canadian Seal Hunt.
Special Guest: Nigel Barker
Help spread the word to save the seals.
Listen

Show & Resource Page GO!
---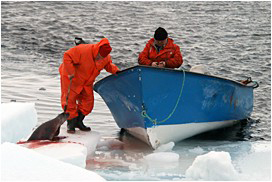 Message from Rebecca Aldworth
Please, help save seals from the clubs of sealers: Make an emergency donation today.
We need to show the world that the carnage is worse than ever -- and that despite the Canadian government's promises, the hunt is as cruel and merciless as ever.
Thank you for standing with us. Having so many of you behind us at home makes all the difference.


Sincerely,
Rebecca Aldworth
Director of Canadian Wildlife Issues
The Humane Society of the United States
Rebecca Aldworth's Journal: GO!
---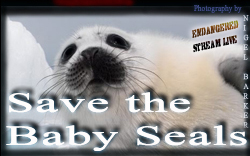 "Save the Baby Seals" Player
Listen Here!