---
"Seal Warriors"
Featuring Captain Paul Watson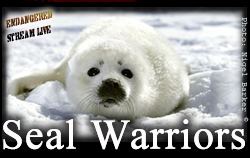 Listen Here
"Seal Warriors" Show Page GO!
---
---
"Save the Baby Seals"
Featuring Ian Robichaud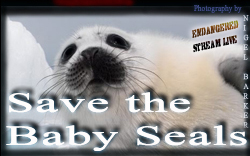 Listen Here
"Save the Baby Seals" Show Page GO!
---
---
"Concrete Evidence"
Featuring Mariana Tosca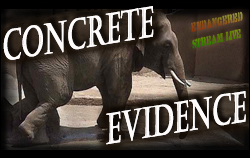 Listen Here
"Concrete Evidence" Show Page GO!
---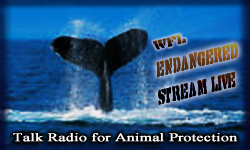 ---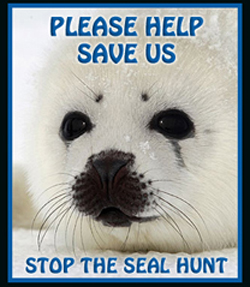 Urge your local grocer to join the Canadian Seafood Boycott GO!
---
TALK RADIO FOR ANIMAL PROTECTION
Worldest 2009

Highlights

WorldFest, a solar-powered, vegan, and sustainable music festival attended by many celebrities interested in animal welfare, the planet, and a healthy lifestyle. Mariana Tosca hosted the Main Stage events which included appearances and performances by Tippi Hedren, actress and founder of the Shambala Preserve, Kathy Freston, bestselling author of Quantum Wellness, Captain Paul Watson from Animal Planet's Whale Wars and Persia White from the hit TV series

Mariana Tosca Chief Animal Welfare Advisor to US Congressman Dennis Kucinich, and as a lifelong animal & environmental advocate hosted the main stage events.

You can learn more about Mariana Tosca on "Concrete Evidence" GO!

An Update on Sea Shepherd News with Captain Paul Watson

Sea Shepherd has a lot of preparation to do in organizing for their return to Antarctica in Dec ember. "We're trying to go down with 2 ships. We were able to cut their quota in half last year and if we can get two ships we might be able to cut it down to 90%" Paul said.


Lush has been helpful withSea Shepherd's campaign to end sealing in Canada and shark finning worldwide. Watson said, "we just got a big victory with the seals because the EU Parliament passed a bill to ban seal products which meant they only took 21% of their quota." Canada had set out to kill over 330,000 baby seals this year. "So it was a good year for the seals and hopefully we can have the same kind of impact on shark finning" said Paul.


Sea Shepherd also has ongoing work in Galapagos where they are confiscating shark fins at the airports and ports. Paul also said, "we have surveillance parked in the northern islands so we're cutting down poaching quite a bit.


Donate to Sea Shepherd to help bring an end to the illegal Japanese whaling activities this year. GO!

The 2nd season of whale wars is going to start on June 5th!

Catch Animal Planet's Sneek Peek GO!

---

---

Interview Highlights

---

---

"Seal Warriors" with Captain Watson

---

Ocean Defenders

Kurt Lieber, a long time volunteer for Sea Shepherd is also the Founder and President of Ocean Defenders, a 501c3 nonprofit grassroots marine conservation group based in Orange County, California. ODA is committed to protecting Southern California's near shore rocky reef and seabed ecosystems from dangerous man-made objects, especially derelict commercial fishing gear left at sea.

A significant amount of "Ghost Gear" - lost and abandoned lobster/crab pots, nets, and lines - is generated annually by commercial fishing operations off the coast of California. The ghost gear pollutes and degrades water quality and poses life-threatening risks to marine wildlife (mammals, birds, fish, invertebrates) which can become needlessly entrapped and die. Ghost gear can seriously damage vital reef structure during storms and threatens fragile kelp beds by unbalancing the food chain. Drifting lines and nets near the surface pose a navigational hazard to boaters and can possibly entangle and drown ocean surfers, swimmers, and scuba divers.

According to a recent status report by the California Department of Fish and Game, a typical California Spiny Lobster (2.6 inch carapace length) releases about 100,000 eggs. Whereas, a lobster that reaches 3.6 inch carapace length would release 680,000 eggs! It takes 7 to 11 years for a lobster to reach the legal size of 3.25 carapace length. More

Ocean Defenders.org



WFL Endangered Stream Live
WORLDFEST 2009
Highlights from WFL Endangered Stream Live with spotlight interviews featuring top animal rights organizations and activists at Worldfest.
Sea Shepherd Conservation Society
Captain Paul Watson
Kurt Lieber
Also check out Ocean Defenders below!
---
Wild Burro Rescue
Linda Lee
---
Harpseals.org
Rob Mead
---
Earthlings
Shaun Monson
---
Lush
Daphne Engelker
---
Orang Utan Republik
Gary Shapiro
---
Abby Animal Sanctuary
Rachel Leroe
Mainstage - Captain Watson with Trash McSweeney to "Whales are Dying". Written by Trash McSweeney & Paul Watson.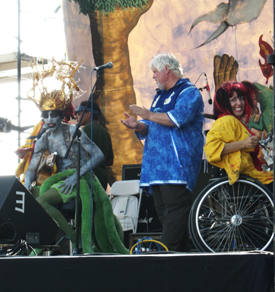 Click Image below to Play


The Red Paintings, collaborated with the Sea Shepherd to record a Midnight Oil Cover of "Beds are Burning" now called "Whales are Dying" with lyrics written by Sea Shepherd's founder, Captain Paul Watson & Trash McSweeney and backing vocals sung by ships crew the night before their ship, the 'Steve Irwin', left Australia for their latest campaign in Antarctic waters.

"With Peter Garrett being the current Australian Minister for the Environment who is allowing the Japanese to kill whales in our own backyard – the Australian Antarctic whale sanctuary, the irony of using a Midnight Oil cover parody of " Beds are Burning" called " Whales are Dying " we thought was perfect and straight to the point THE TIME TO STOP JAPAN FROM KILLING WHALES IS LONG OVERDUE" Said Trash McSweeney, song writer for The Red Paintings. (more)



---
From Harpseals.org
Harp seal pups are famous for their big black eyes and fluffy white fur. These are their trademarks in their first two weeks of life. But these beautiful and gentle creatures have the unfortunate status of annually suffering the largest slaughter of any marine mammal species on
the planet.
Every spring, great numbers of these seals are born on the stark ice floes off the Canadian Atlantic coastline of Newfoundland and Labrador and in the Gulf of St. Lawrence to the east of Quebec.
Commonly referred to as "whitecoats", Their captivating images have been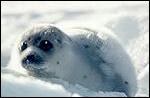 captured in a thousand ways and distributed around the world, making them among the most recognizable and well known of species of wild animal on earth. It's sad and ironic to point out that all this recognition does nothing to help their plight as these seal pups are the victims of a brutal annual massacre in a politically-driven, propaganda-supported slaughter. More